My comfort in my suffering is this: Your promise preserves my life. Psalm 119:50 NIV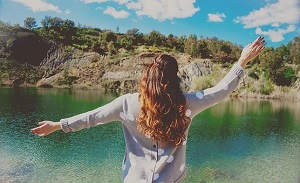 I'm not what one would call adventurous. Rather, I'm a homebody who appreciates cleanliness and comfort.
I was once challenged to step out of that zone when my husband and I were invited on an excursion to Brimstone—an ATV recreation park in east Tennessee. "You'll love it!" we were told. "It'll be fun," we were promised.
As the owners of a side-by-side, we had the vehicle but needed the appropriate attire—boots, goggles, and coveralls, not to mention thermal socks and gloves. Although the forecast called for sunshine, the air would be brisk and the ground wet and muddy.
On the morning of the adventure—protected head to toe in safety gear—I giggled, "This is what I call the full armor of God!"
I did feel secure, but as I logged miles over many hours of wild terrain, I noticed a nagging pain. Having chipped my tailbone many years earlier, this unseen injury threatened to steal my joy. Despite all my efforts to dress appropriately, the old injury ached. I found comfort only in clinging tightly to the emergency handle of the ATV and holding fast to God's promises as we bumped along that red Tennessee clay toward home.
God promises us full armor to thwart the Enemy's schemes. Still, wounds may remain—hidden and undetected. Circumstances may cause them to surface. Perhaps we suffer physically, or maybe our discomfort is rooted in fear, insecurity, or painful memories.
God gives us many good and precious promises—each to preserve and protect us on life's often bumpy and difficult path. Believing God won't waste a single suffering brings purpose to pain and beauty to brokenness.
What life-preserving promises from the Bible bring you comfort? Hold tightly to them. The suffering may remain, but so will your Savior—until you're finally home with him. That's a promise!
(Photo courtesy of pixabay.)
(For more devotions, visit Christian Devotions.)
---
---