The Sower Sows the Word. Mark 4:14 NKJV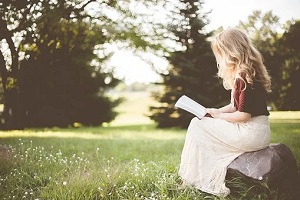 The man attended church with his family. He even came to our Bible study and participated in lively conversations. He was a great guy. Generous. Good father and husband. But he wasn't a believer. We'll call him Sam.
As we spent more and more time with Sam, we were fascinated to learn how much he knew about the Bible. He studied it constantly, as he said, "looking for loopholes." He seemed determined to prove to all of us that the Scriptures were "a lot of hooey."
As time progressed, we had fun watching his well-thought-out plan backfire. As he went about filling his head with Scripture, the Lord was busy working in Sam's heart. Even though Sam searched with wrong motives, he still searched. And what he found was love and grace that caused all that head knowledge to sink deeply into his heart. Love and grace opened the eyes of Sam's understanding and kindled a passion in him. He became a powerhouse for the Lord.
Mark (chapter 4) gives us the story of seed (the Word) sown in different types of soil (our heart), each type producing a different result. Since the Word only produces in "good ground," our friend didn't realize he was inadvertently sowing his seed and preparing the soil of his heart to receive God's Word. When the time was right, the Word took root and produced a great harvest.
Don't be a casual reader of the Bible. Study it. Meditate on it. Sow it into your heart. Ask the Holy Spirit to enlighten you and lead you into the truth. Your life will never be the same.
(Photo courtesy of pixabay.)
(For more devotions, visit Christian Devotions.)
---
---