Then Ananias went to the house and entered it. Placing his hands on Saul, he said, "Brother Saul, the Lord…has sent me." Acts 9:17 NIV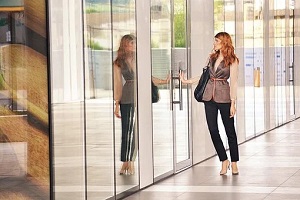 I pulled open the heavy door and entered the dim classroom, nervously smiling at the dozen or so students seated in a circle.
I had been selected to participate in an ethics discussion group in a university's Sociology Department. I knew I would be asked to share the Christian perspective on several topics. At that moment, I felt small, inadequate, and intimidated. I didn't know if I would have the courage, or the words, to represent my Savior adequately.
Ananias was also confronted with the fear of what was behind a door. Saul was a well-known persecutor of Christians, but the Lord told Ananias to meet and pray for his potential killer. Did Ananias stop outside the door for a few minutes to prepare himself? Did he consider walking away at that moment? What courage it took for him to step through that door.
We may face doors that represent a risk if we obey Jesus. If we walk through the door, we may be in danger of losing standing among our family and friends, a relationship, or money. Perhaps, we are facing something that can only be done through the strength of the Lord.
We may suffer loss of face, reputation, or worldly rewards to follow Jesus. But as servants of the King, we must face those risks with faith, trusting God will provide the courage we need to honor Him.
Like Ananias, commit yourself to God's care, take a breath, and pull open that door. No matter what else faces you, God will meet you there with all the grace you need to honor Him on the other side.
(Photo courtesy of pixabay.)
(For more devotions, visit Christian Devotions.)
---
---