We love him because he first loved us. 1 John 4:19 KJV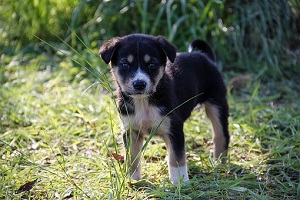 "Can I keep him, Mom? I'll take real good care of him. I promise!"
"I'd love to have a dollar for every time I've heard that question," Mikey's mom replied. "Yes, but he's your responsibility."
"You'll see, Mom. You'll never know he's here," Mikey said with excitement as he rushed into the backyard with his new best friend.
Something about strays and misfits appealed to Mikey. He had a heart of gold. He always wanted to help those whom others seemed not to notice. People, dogs, or pretty much any other creature. It didn't matter to Mikey; he loved them all. He once bottle-fed a baby raccoon whose mom had gotten hit by a car. That momma raccoon didn't know it, but her baby couldn't have fallen into better hands.
Mikey probably developed a compassionate heart because of his time in an orphanage. He could relate to his new dog, Bubba. He, too, had once felt unloved and unwanted. That was before Paul and Gina Jackson came to the orphanage to adopt a child. Mikey was five at the time, but when their eyes met his, he knew he'd finally found a place he belonged. Now, he was an eight-year-old with eyes full of wonder and a heart full of love. Mikey remembered those early days as he scrubbed and brushed Bubba's coat.
We can all relate to Mikey and Bubba. There was a time in our lives when we were unwanted and unfit to be loved. We were alone and unnoticed by most but loved by one. Even in the condition we were in, Jesus still loved us.
The world may have passed us by and written us off, but Jesus came to where we were. He's never met a stray or misfit He didn't love. He took us in, saving us from a miserable future of eternal separation from God. He cleaned us up and made us fit to be loved. He wasn't concerned with others' opinions; He loved us anyway. He saw something in us others couldn't see.
Your needs will be forever met, and you'll always be loved because Jesus gave His life for strays and misfits like you.
(Photo courtesy of pixabay.)
(For more devotions, visit Christian Devotions.)
---
---