Every good and perfect gift is from above, coming down from the Father of the heavenly lights, who does not change like shifting shadows. James 1:17 NIV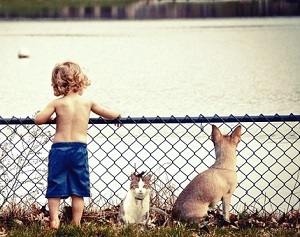 My first memory includes a dog—two, in fact.
Before I could walk on sturdy legs or talk in lengthy sentences, when all things—colors, sounds, scents—were still new and fresh from heaven, Momma would push me in a stroller. We ventured down a gravel alley that ran behind the houses on our street, dividing the homes which lined King Avenue with those that sat behind. A right turn out the garage door and ten paces forward took us to a small patch of worn grass, enclosed with a chain-link fence. This was the dwelling place of two dogs—their gender, breed, and color no longer etched in my mind. What I do remember is their scent and the happy feelings a little two-year-old girl experienced each time we happened by.
"Doggie," I'd exclaim, pointing. "D-ood dog."
And Momma would bend low to kiss my brow before affirming the truth we both believed. "Yes, those are good dogs," she'd say as she pushed my stroller close enough so I could take in their dog smell—a mixture of moisture and earth and, well, dog. To me, it was the fragrance of joy.
I don't remember if Mom ever allowed me to pet those mongrel pups or if they ever licked my outstretched fingers through the fence. I don't know the number of times we passed by or if, one day, we discovered them gone. Like many memories from one's distant past these, too, although beautiful moments, are like shards of stained glass—pretty to look at but no longer a part of a bigger picture.
To me, these visits of long ago were gifts. My recollections—simplistic though they are—remain treasures. If young children have a unique sense that somehow links them to heaven, then perhaps these dogs were a reflection of their Creator.
In some sort of way, perhaps our "Good dog" exclamations are much like a prayer that God Himself can decipher and know the full meaning.
The Giver of all good gifts, our heavenly Father, hears. He knows. What we're saying is, "Good God," because that is what He is.
What good gifts might you thank God for today? He bends low to listen.
(Photo courtesy of pixabay.)
(For more devotions, visit Christian Devotions.)
---
---