We are hunted down, but God never abandons us. We get knocked down, but we get up again and keep going. 2 Corinthians 4:9 NLT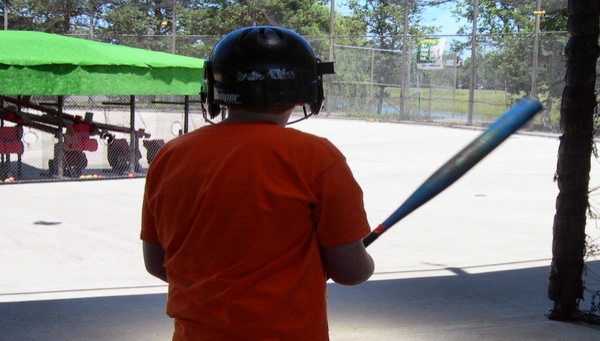 The scenario continued until he struck out. Over and over. Game after game.
Our son, Ashton, stepped up to home plate and held his bat high over his shoulder. He bent his knees and gripped the bat a little tighter. "Go Ashton, you got this!" I yelled from the stands. He waited. The first pitch fired across home plate. He froze in place. "Strike one!" the umpire shouted from behind the plate.
After watching this scene repeatedly, Ashton's father stepped in. "Hey, buddy, I want to take you to the batting cages to practice. I think it will help if you get used to fast pitches coming in."
And with that, father and son headed off to practice. After a few stints at the batting cage, Ashton stepped up to the plate. Please, Lord, let him hit the ball this time. As soon as those words rolled off my tongue, I heard the whack as bat met ball and Ashton sped to first base.
I think this is why Paul admonishes us to keep trying, even if we fail the first, second, or third time. Our loving Father will step in and give us the tools to succeed. Then we keep trying until we accomplish what we set out to do.
We often put off doing something because we are afraid of failing. Or we try once or twice, but come up short and quit. God wants us to step out, to try again, and to rest assured He will meet us where we are. He equips each of us to fulfill what He calls us to do.
Go ahead and try again. You never know. The next time you step up to bat, you might hit a home run.
(Photo courtesy of pixabay.)
(For more devotions, visit Christian Devotions.)
---
---