O Lord, you have searched me and you know me. You know when I sit and when I rise; you perceive my thoughts from afar. You discern my going out and my lying down; you are familiar with all my ways. Psalm 139:1-3 NIV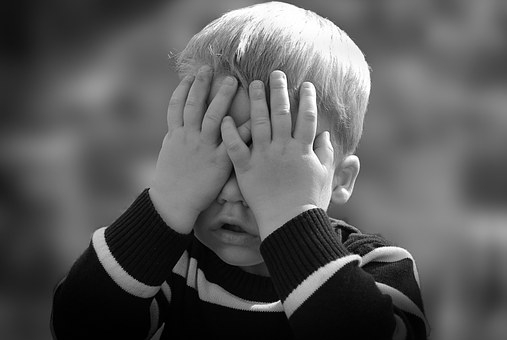 As soon as the counting began, he ran into the next room and plastered himself face down on the floor, in full view of anyone entering the room.
My nephew loved to play Hide-n-Seek when he was three years old. To his young mind, he was well-hidden while lying on the floor. Because he could not see his seeker, he thought his seeker could not see him.
The psalmist David relished the idea of an omniscient Lord. He praised God for knowing his every move and thought. He welcomed the familiarity of a close relationship.
My nephew's childlike view reflects our own attempts to avoid a close relationship with God. Like Adam and Eve when they sinned against God, we often rationalize our actions and believe God cannot find us or see our indiscretions. We struggle alone with seemingly impossible situations when God offers us unlimited possibilities.
Like Jonah, when God calls us to complete a task, we often run in the opposite direction, hide beneath a sea of distractions, or give excuses for our insubordination. We think we are well-hidden.
Rather than fleeing, we should find comfort in knowing God is always near. He understands our comings and goings, even when our paths steer us away from Him. In the words of Corrie ten Boom, if we stop "wrestling" and start "nestling," we will find rest in the nearness of God.
My nephew, a few years older now, still enjoys playing Hide-n-Seek with his younger cousins. Because he has grown in wisdom and faith, he now has a more mature understanding of both God and himself.
As you grow in your relationship with Christ, focus on His nearness and His understanding of you as His child. Walk daily knowing He is by your side.
(Photo courtesy of pixabay.)
(For more devotions, visit Christian Devotions.)
---
---