Be still, and know that I am God! Psalm 46:10 NLT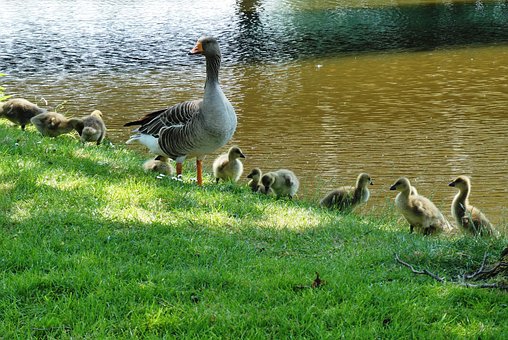 A feathered family captured our hearts and altered our reactions.
Driving out of town, we stopped on a busy road to let a family of geese have the right of way. I don't know how this pause affected those in the cars behind us, but it became a welcome interruption for us.
My initial reaction was "oh, no"—calculating the delay. But the little family waddling across the road soon mesmerized me. Mother goose moved her stragglers along with her beak, as if she were conscious they were holding up traffic. Stately papa goose stood ready to do whatever was needed to help his family arrive safely on the other side. We worried as one gosling struggled at the road's edge and two others battled the curb. Papa goose went to the rescue and lifted them with his beak. These parents were not about to leave any family member behind but waited until everyone made it over the curb and onto the grass on the other side.
The psalmist invites us to be still and know that God is God. Embedded in God's creation is an inherent need to love and care for others. We are often overloaded with personal attacks, disrespect, and disregard for others, but the little goose family reminded us how it should be. We should do everything we can to help people we know and love get safely to where they need to be. Even a goose knows that.
They also made us pay attention to what was happening at the moment. We are plagued with distractions that steal our focus. A great deal has been written on mindfulness—focusing on what is happening in the present moment. Whether watching a sunset, taking in a majestic thunderstorm, or talking with a spouse, daughter, son, friend, or grandchild, life is enriched by focusing on that moment. Not wanting to run over nine geese forced me to see what was happening in front of me. I was blessed as I watched that little family swagger across the busy road, but I was also reminded to be attentive to others.
Pausing offers an opportunity to inhale grace and exhale gratitude. It impacts our experiences with God too.
Ask God to help you respond often to His invitation to pause.
(Photo courtesy of pixabay.)
(For more devotions, visit Christian Devotions.)
---
---