He grants the desires of those who fear him. Psalm 145:19 NLT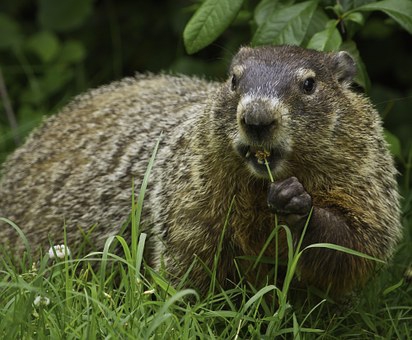 My cat, Figaro, sat on the back step, peering through the wooden slats. Her golden eyes were wide with attention. Her nose twitched with interest.
As I followed her gaze, I saw a groundhog under the step. Unsure of how far the groundhog would go to protect his space, I whisked Figaro away. Once she was safe in the house, my feelings shifted to elation. The groundhog was sent by God.
One week prior to the groundhog's appearance, my mom had seen one nearby while walking. We often walk together, but I wasn't with her that day and was disappointed I'd missed out. Though groundhogs are native to Alaska, in my thirty-one years in the state, I had never seen one up close. So I said a prayer: Lord, please let me see that groundhog.
Though I had to wait, the groundhog eventually emerged from beneath the step. Instead of dashing into the bushes, as I feared he might, he waddled to the flower box. With leathery paws, he pulled a delphinium stalk down to his face and nibbled the blossoms. Against the backdrop of ferns and flowers, the scene was enchanting. He snacked for several minutes, then ambled away as if he hadn't a care in the world.
Seeing a groundhog might seem mundane, but for me it was an answered prayer. God heard when I asked to see the groundhog and somehow inspired him to pay me a visit. On that warm summer day, God used nature to declare His love, affection, and attention toward me.
The Bible says God hears our voices (Psalm 116:1) and grants the desires of those who fear Him (Psalm 145:19)—even the little desires. He is a good Father, tenderly watching over us, inclining His ear to the stirrings of our hearts.
God wants to delight us and speak to us uniquely and individually. Sometimes He does that through a brilliant sunrise, sometimes through a kind word from a friend, and sometimes through something as simple as a visit from a groundhog.
Believe God cares about your desires. Ask Him for the small, but meaningful. Trust that He hears you, and then look for His answers.
(Photo courtesy of pixabay.)
(For more devotions, visit Christian Devotions.)
---
---