Though I am the least deserving of all God's people, he graciously gave me the privilege of telling the Gentiles about the endless treasures available to them in Christ. Ephesians 3:8 NLT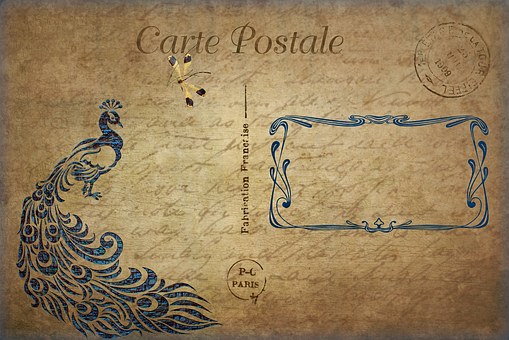 It was only a postcard, but to me it was a treasure.
The yellowed envelope said Nora on the outside, but the inside is what fascinated me the most. On the front of the postcard was a small pocket made of thin fabric with a blue cross and flowers embroidered on it. Folded neatly into the pocket was a tiny lace handkerchief. On the back was a message written to my grandmother from a soldier named Mack who had sent it from Paris during WWI in 1917.
I displayed the postcard on a shelf in a guest room, along with other antiques my grandmother gave me. It was my favorite room in the house because it held cherished items. Then my guest room became a bedroom and a nursery to my daughter, son-in-law, and grandson while they built their new home.
One day while rocking my grandson, I noticed the postcard was gone. I figured it had fallen to the floor and was under the changing table, but I didn't bother to look. A few days later, I decided to retrieve the postcard and return it to its rightful place. I looked under the changing table. No postcard. I panicked and looked everywhere. After an exhaustive search, I concluded it had fallen into the trash and had been thrown away.
My heart sank. I wanted to cry. I could never replace that postcard. It was a lost piece of history. I whispered a tearful prayer to God, "Oh God, it's gone. Help me to respond in an honoring way. I'm so disappointed." Then God reminded me of my eternal treasures. My faith in Christ has afforded me a new nature, freedom from sin, forgiveness, and a future in heaven. The list goes on and on.
Paul knew all the endless treasures we receive in Christ and understood the importance of focusing on them.
Forgetting what we have in Christ and letting this life become our focus is easy. We often don't think about our eternal treasures. But we need to.
Don't forget to be grateful for what the gospel grants you: true treasures that will never be lost or thrown away.
(Photo courtesy of pixabay.)
(For more devotions, visit Christian Devotions.)
---
---