[Jesus] called a little child to him, and placed the child among them. And he said: "Truly I tell you, unless you change and become like little children, you will never enter the kingdom of heaven." Matthew 18:2-4 NIV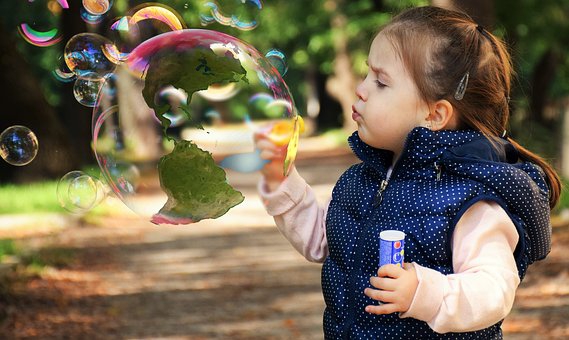 Bubbles. That's just what we need here.
I was on a tight schedule. A friend's husband and daughter were over to pick up our dining room set before another family delivered the set they were giving us. They were expected; three-year-old Alianna was not. When she was introduced to me, she pirouetted, revealing the flair of both her skirt and her personality—definitely a bubbles kind of girl.
I retrieved two bottles of bubbles from our front closet. While her mom and grandfather wrestled the furniture into their van, my new friend and I blew bubbles, laughing as they danced on a soft breeze and popped on the grass, bushes, and our outstretched hands.
But one didn't pop. "Look, Alianna," I exclaimed, "that bubble is going to Jesus."
As Alianna tracked the rising bubble with widening eyes, she made a joyful little bounce and rose up on her tippy-toes as if she might float to heaven with it. "Goin' ta Jesus!" she echoed. Together, we watched that bubble float out of sight.
Jesus loves children, so He must love bubbles, I thought. Then I got an image of Jesus blowing bubbles down on us from His throne above—with His own pink, plastic wand. Seeing Jesus' smile and bright eyes, I felt in my heart His delight in joining our fun.
One day, Jesus' disciples asked Him to identify who was the greatest in His kingdom. Jesus drew a little child into their midst to teach them that greatness in the kingdom of God is more about delight than achievement. When Jesus unexpectedly placed little Alianna into my day, my spirit rose along with the bubbles … and our laughter above my worries and agenda.
Let Jesus interrupt your agenda and exchange importance for delight. Have some fun together. Maybe even blow bubbles. Let the child He draws into His arms be you.
(Photo courtesy of pixabay.)
(For more devotions, visit Christian Devotions.)
---
---