He took with him Mary, his fianc?e, who was now obviously pregnant. And while they were there, the time came for her baby to be born. Luke 2:5-6 NLT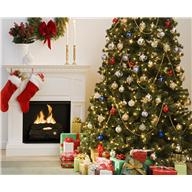 We were in a strange place and had no plans to spend our first Christmas there. Eight years had passed since I graduated high school, but now I felt God's call into full-time ministry. Obeying the call would require furthering my education. I would have to attend college.
I was married and had a ten-month-old daughter. Pulling up stakes and leaving everything and everyone behind was scary. So we left our home in South Carolina and headed for unknown territory—Graceville, Florida, a small town whose appearance and climate varied little from what we were accustomed to.
August found me back in a classroom, longing for December when we could return home for a week to celebrate Christmas with our family. My first semester breezed by. Before I realized it, we were loading the car for our drive to South Carolina. Eight hours later, we pulled into my parents' driveway.
Mom had been busy. Gifts bulged beneath the tree onto the living room floor. We received so many presents we had to purchase a car-top carrier to store our luggage. When the week ended, we reluctantly packed our car, stuffed ourselves in between the gifts, and made our trek back to Florida.
We could have stayed in Florida and celebrated with our small family and a few friends, but we just couldn't bring ourselves to spend Christmas in a strange place … a place that was only our temporary residence. A tax census forced Mary and Joseph to a strange place. They had to experience what I hesitated to do.
Over the course of my life, I've spent Christmas in a number of strange places … places that weren't my real home …temporary places. And I've discovered Christmas isn't tied to a place but, rather, a person. When Jesus abides in my heart, it's Christmas all year long and anywhere I happen to reside. I'll never celebrate Christmas in a strange place when I remember the true meaning of the season.
Welcome Christ into your life so you'll never have to celebrate Christmas in a strange place.
(Photo courtesy of office.microsoft.com.)
(For more devotions, visit www.christiandevotions.us.)
---
---