For God so loved the world, that he gave his only begotten Son, that whosoever believeth in him should not perish, but have everlasting life. John 3:16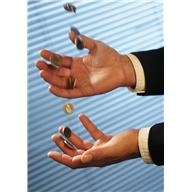 If you were in Bloomington, Minnesota on December 2nd of this year and happened to be among the crowd gathered in the rotunda of Mall of America to hear a choir singing "Let It Snow," you may be able to say you caught pennies raining from heaven. For it was at that moment when Serge Vorobyov, standing on an upper level of the mall, chose to shower the shoppers below with a flurry of more than one thousand dollar bills!
The shower of money was first seen as a genuine gesture of spontaneous generosity and "good will toward men" at Christmastime. Unfortunately, further investigation has revealed each of the dollar bills was stamped with Serge's YouTube address. It has been suggested he only let a thousand dollars float down from above in hopes the YouTube video would go viral, thereby earning him a great deal more than his thousand dollar giveaway. One cynical commentator quipped, "Single dollar bills? Really? What difference will that make?"

I don't know what motivated Serge. Only God can know a man's heart, but I do know this: raining dollar bills on holiday shoppers at a mall sure beats raining bullets like we have seen in days gone by. And though it may be true a dollar does not account for much anymore, the surprise of having one or two of them, no strings attached, float into the hands of someone experiencing a not-so-merry and bright Christmas, may have been just the right amount of encouragement needed to lift their spirit and open their heart to the miracle of Christmas. The miracle, as pastor and author John McArthur has so beautifully said, is: "The birth of Jesus—Immanuel, God with us, the promised Messiah who came to save His people from their sins."
As you prepare for Christmas, ask God's help to give generously from a heart filled with love … no strings attached.
(Photo courtesy of office.microsoft.com.)
(For more devotions, visit www.christiandevotions.us.)
---
---