Yea, though I walk through the valley of the shadow of death, I will fear no evil: for thou art with me. Psalms 23:4 KJV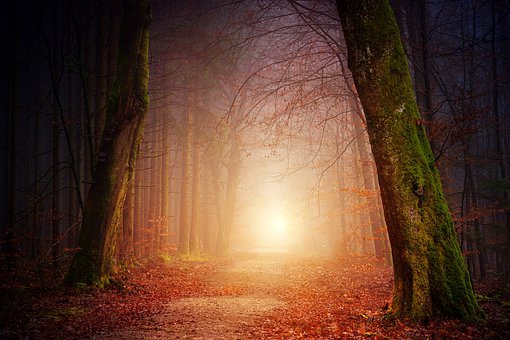 My first trick-or-treat experience was with my cousins.
My cousins chose to go to a haunted house, because my uncle knew the people putting it on. When we entered the house, it was dark. I could hear sounds of screaming in the background. Every way I looked, evil, demon-looking creatures stretched out their hands towards me. I screamed bloody murder and tears filled my eyes. I was terrified.
My Uncle Robert reached down, picked me up, and carried me out, telling those creatures to back off. He was getting me out of there. In Uncle Robert's arms I felt safe, because when he said to move, those creatures backed off and moved out of his way. He carried me safely through and nothing bothered me.
We all walk through the valley of the shadow of death, and it does not have to be physical death. It can be any overwhelming circumstance causing us deep pain where the presence of evil is reaching out its hand to destroy us.
However, we have a heavenly Father who can reach down and carry us through the shadow of death. We don't have to fear because our Father is with us. When He tells the demons and darkness to get out of His way, they will always obey His voice.
If you are walking in the valley of death today—and you fear because of the things your eyes see, your ears hear, and your heart feels—remember your heavenly Father walks with you. He will lead you through every situation.
When you see the shadows, trust that your Father will keep you safe.
(Photo courtesy of pixabay.)
(For more devotions, visit Christian Devotions.)
---
---