You will conceive and give birth to a son, and you are to call him Jesus. Luke 1:31 NIV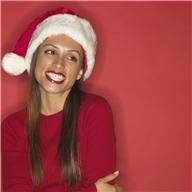 Have yourself "A Holly Jolly Christmas, it's the best time of the year!" recorded and sung by American folk singer Burl Ives in 1965, is one of those trademark Christmas songs that blares in pretty much every mall and radio during the holiday season.
I thought about the expectations this Christmas song—with so many of the other ones—set up for the holiday season. This time of the year, above all of the other ones, is a time when I'm not only supposed to—but mandated and even told to—be merry, have good cheer, celebrate, and drink eggnog like there is no tomorrow.
The Christmas holiday can be disheartening and grief-building for us. We miss the people we have lost … miss spending time with them during this season. The sadness and grief, even though very real and allowable, are at odds with the secular Christmas propaganda of merriment and cheer. These things are not based on anything real, but on plastic and tinsel instead of honest human emotions and situations. The secular Christmas is apart from the real human experience and sets us up for expectations that can't and shouldn't be met.
The Christian Christmas—Jesus, the virgin birth, and the hope of eternal life—does not demand this kind of false cheer from us. This kind of Christmas, just like our savior Jesus Christ, cries with us when we cry and grieves with us when we grieve. But it also points us to our real hope—Emmanuel, God with us.
In faith, we are with Him eternally. Christmas is about hope, not a holly jolly time. Cut yourself some slack this holiday season by giving yourself permission to grieve and miss your loved ones. Then allow God to comfort you and turn your mourning into joy—the joy that only He can give.
(Photo courtesy of office.microsoft.com.)
(For more devotions, visit www.christiandevotions.us.)
---
---