Thanks be unto God for his unspeakable gift. 2 Corinthians 9:15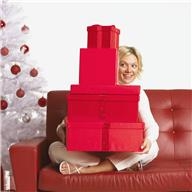 The packages were all open, the wrapping strewn across the room. Christmas was really, truly over. Only thing left to do was clean up.
There was only one problem. The baby was missing, lost somewhere in the gift wrapping. Slowly lifting each piece, we searched for her. Finally, underneath a pile of wrap, she laid contented, cooing, laughing, and kicking her tiny feet, not knowing she had been lost.
I decided that is what I do with Christmas. Somehow, somewhere between decorations, parties, plays, and searching for the perfect gifts, I lose the baby in the manger underneath all the wrappings. My heart doesn't feel the joy and wonder. It just feels overwhelmed by all the stuff I've put in God's place.
God allows me to fill my Christmas celebration with things—things I don't need … things I just want. He allows me to move away, to lose Him in the gift wrapping, and the hustle bustle. And He gives my heart a jerk when I walk away. He rings bells and plays "Silent Night" and "Hark the Herald Angels Sing," and sends me wonderful Christmas stories of love, kindness, and mercy. He fills the sky with beautiful, bright stars and covers the earth with soft, glowing snow. He fills churches and stores with friends, loved ones, and kind strangers.
Through others and blessings sent my way, God touches my heart on a whim just to see if somewhere in this mess, I might want to celebrate Him. And slowly, ever so slowly, He patiently unwraps the true gift of Christmas, His wondrous and abiding love that He sent in the form of a babe in a manger.
Don't lose sight of the reason for the season. Remember Christ.
For the wondrous gift of your love, Lord, I am thankful. I praise you for the one true gift of Christmas, your Son.
(Photo courtesy of office.microsoft.com.)
(For more devotions, visit www.christiandevotions.us.)
---
---