They and their descendants were in charge of guarding the gates of the house of the Lord – the house called the Tent. 1 Chronicles 9:23 NIV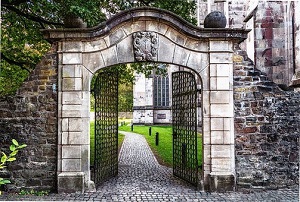 A lot of discussion abounds these days about gates, borders, and boundaries.
The discussion takes me back to biblical times. Old Jerusalem's gates were named for their specific functions: the Fish Gate, the Fountain Gate, and the Horse Gate—to name a few.
Upon their return, after decades in captivity, the Jews posted guards around the clock at each gate during the rebuilding of the city wall. Four gates opened into the temple courtyard in Ezekiel's vision: North, South, East, and West.
The main gate to God's temple in my heart is my mind and my brain. As the gatekeeper, I must be diligent, thinking only about good, pure, and holy things. Careless thoughts can easily slip through my mind and into my heart if I don't halt them at the gate. Whatever settles in my heart will spew out when I am squeezed. So, I have to ask myself, "What is appropriate to allow into my life?" Everything that crosses my thought threshold must be monitored.
I must also guard the smaller gates and keep them secure and in good working order. I have a driving gate, a talking gate, a sleeping gate, an eating and drinking gate, and a gate for everything God leads me to do. He reaches to me and out to others through the gates, which swing both ways.
New gates, old gates, large gates, and small gates all require diligent maintenance. Squeaky floors and creaky doors continually alert us to dangerous creatures prowling around.
Ask God to help you pay close attention to all the activities around your gates.
(Photo courtesy of pixabay.)
(For more devotions, visit Christian Devotions.)
---
---