What do you think? If a man owns a hundred sheep, and one of them wanders away, will he not leave the ninety-nine on the hills and go to look for the one that wandered off? Matthew 18:12 NIV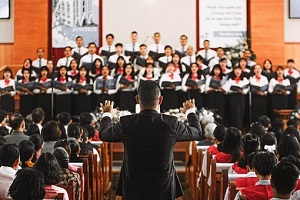 As a grandmother, I inwardly giggled as I watched my young grandson.
The concert was ready to begin, and I sat in the audience to watch him perform. He stood on the riser with the many other children as the program commenced. I heard some off-pitch voices in different octaves. I saw dancing with gusto, hand motions with flare, and expressions that would melt a parent's heart. That is—all but my grandson. I watched in amazement. His face did not change even slightly as he stoically stood, hands tight to his side, expressionless, and tight-lipped like a figurine on a shelf for the entire concert. He was a choir member, but refused to participate.
I wonder if God views His children as I did my grandson. God extends His love and forgiveness to make us part of His kingdom choir, yet some refuse to participate in His program. Many people, battered with scars of suffering and pain, have developed calloused spirits. They have a lock of protection on their hearts. Does God still love, chase after, and romance the disabled nonparticipant, leaving the ninety-nine active choir members?
According to Matthew, this is the precise action of Christ. As a flawed human grandmother, I did not scold or criticize my grandson after the program but wrapped him in my charitable arms. My love for him did not diminish but swelled. I knew of my grandson's pain, and I did applaud his fortitude to remain like a defiant statue without fleeing. He had his reasons for non-participation, and I did not view him with contempt but with compassion, empathy, and pity.
If my imperfect love swelled, can we assume God's perfect love overflows even for those who refuse to participate? God knows the pain, the blindness, and the spiritual handicaps that keep some from responding to His call. His grace is like applause wooing us with these words, "I love you. My blood has made you a choir member, but if you want to experience my glorious music, take my hand, receive my forgiveness, dance and sing and participate in me."
Be willing to step out of the choir to reach those who are in pain. You may never know who will eventually participate, but God does.
(Photo courtesy of pixabay.)
(For more devotions, visit Christian Devotions.)
---
---