You will show me the way of life, granting me the joy of your presence and the pleasures of living with you forever. Psalm 16:11 NLT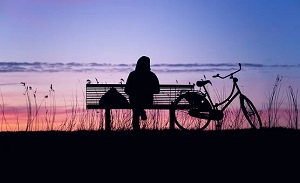 In my mid-forties, I lived alone for the first time in my life.
I was an emotional wreck, feeling as though I'd been dumped into a well of hopelessness. The end of a twenty-five-year marriage thrust me from my comfort zone. I left my hometown and the home I had lived in for over twenty years where I'd raised my three children. As I divided personal possessions and keepsakes, I wrote a poem entitled, "But Who Gets the Friends?"
Although I had my family's support, I often felt alone and had days when despair nearly engulfed me. Loss overwhelmed me.
But with perseverance, I engaged in simple pleasures that might cheer me. Each evening, I set the table for one, although I didn't have much of an appetite. Even when the menu was tomato soup and saltine crackers, I used a pretty placemat with a matching cloth napkin and lit a candle. At first, this was simply a discipline I demanded of myself, but gradually I looked forward to that time of day. I became comfortable with myself.
I learned that being alone doesn't necessarily mean being lonely. I read God's Word and devoured Scriptures that nourished and filled me with hope for my future. Gradually, I realized my happiness didn't rely on relationships with others but my relationship with God Himself. I felt His presence and the pleasure of living with Him.
The future that once looked dim and fading took on new light and shed new hope. God was showing me the way. With time, I knew I wasn't alone. God lived in and with me.
When you feel lonely, find a way to enjoy simple pleasures. Happiness is fleeting, but the joy found in God's presence endures.
(Photo courtesy of pixabay.)
(For more devotions, visit Christian Devotions.)
---
---