He heals the brokenhearted And binds up their wounds. Psalm 147:3 NIV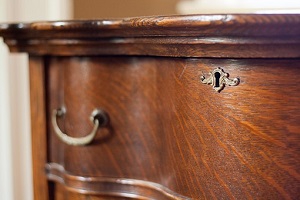 I once stuffed my grandmother's childhood dresser so full that when I pulled the second drawer open, it nearly crumbled to pieces.
Thinking the dresser was irreparable, my heart sank, along with the outpouring of socks, T-shirts, and other random contents. But Justin, my sweet fiancé, took one look at my dresser, and said, "I can fix it." He spent one entire morning running errands to get wood glue, clamps, and other items needed to fix antique wooden furniture.
After bonding for nearly two days, he brought the drawer to my room. It was as good as new. Perhaps even better. The replacement parts, coupled with the strong adhesive, breathed new life into my old wooden friend.
So many times in life, we simply break. A hurtful word from a well-meaning friend. An unkind gesture from a stranger. A day of giving with no receiving. It can wear a body down.
Yet there is always a friend who wishes to fix our broken spirit. To breathe life into our exhausted lungs. To replenish that which was once a whole heart, but somewhere along the way, was shattered in two.
Justin's gesture reminded me that Jesus is humbly waiting for me to reach out. No matter the situation. No matter the time of day. No matter how completely I have messed things up. He wants to fix the situation—and me. To make me stronger, better able to function than ever before, and able to withstand the stresses of life. He wants to repair and rejuvenate this weary soul into something new, beautiful, functional, and grateful.
Jesus wants to clean the dirty, tired, and unusable contents from the remnants of my being and bond me together again. A new work, a fresh spirit, and a stronger vessel to hold the most precious contents my heart could conceive.
Like my treasured antique dresser, this old soul often needs cleansing of the old junk, adhesive to restore the walls, and bonding time to heal and renew. From broken to beautiful, Jesus specializes in turning battles to blessings if only we seek His loving and healing hand.
If you're broken, let Jesus restore you to beautiful.
(Photo courtesy of pixabay.)
(For more devotions, visit Christian Devotions.)
---
---