Just as the rich rule the poor, so the borrower is servant to the lender. Proverbs 22:7 NLT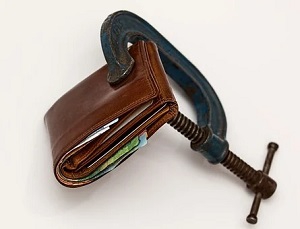 Borrowers serve lenders—and that's exactly what Dad wanted me to do at sixteen.
A firstborn child experiences many challenges—among them having parents who seem to go overboard trying to teach them responsibility. Dad was determined I would learn responsibility if I learned nothing else. Years later, I appreciated his efforts, but at the time I chafed under them.
One day, he said, "Let's go down to the furniture store."
When I asked why, Dad explained the importance of a good credit record. I probably wouldn't have the cash to pay for some big-ticket necessities in life—such as a car, house, appliances. I suppose Dad assumed I wouldn't earn an enormous salary. No one in our family history had.
According to Dad, a good credit record held importance for two reasons: so I could borrow money and so I could get it at a low-interest rate. Made sense to me, so off we went. Before I knew it, I had purchased a solid-oak bedroom suite on time. Each month, I would send a payment. Doing so would build my credit rating.
Dad was right. A good credit record is important. Mine stayed that way for many years until some things beyond my control ruined it. Borrowing was easy and came with cheap interest rates. Over the years, I saved money by having a healthy credit rating.
But Solomon was right, too. When I borrowed, I became a servant to the lender. They gave me the money and watched over my shoulder to make sure I promptly made my monthly payment. If I didn't, they charged me extra. And if something happened and I couldn't pay it back, they would gladly turn the matter over to a collection agency who would charge me more money, harass me, and ruin my credit history. And to boot, if I borrowed after that, I'd have to pay a higher interest rate to get the money.
Dad never encouraged me to borrow unnecessarily, but when had to, having a good credit record helped.
How's your credit record? Are you doing everything you can to keep it healthy?
(Photo courtesy of pixabay.)
(For more devotions, visit Christian Devotions.)
---
---