But when he saw the wind boisterous, he was afraid; and beginning to sink, he cried, saying, Lord, save me. Matthew 14:30 KJV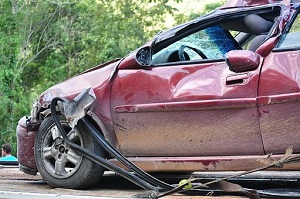 I was scared and cried out to Jesus.
Stockbridge, Michigan. January 1972. My sister, brother-in-law, and I were on our way to a friend's house when our car slid off the snowy highway into the ditch. The car gained speed as we headed toward a big tree. Without a doubt, I knew our fate. I cried out to my Savior, "Jesus save us."
None of us wore seat belts. All of us plunged into the windshield. My sister, seven months pregnant and sitting in the middle of the front seat, was knocked out after banging her head on the rearview mirror. Fortunately, her baby was okay. No one else was injured.
Many times after that wreck, I thought about Simon Peter. When Jesus bid him to walk on the water, he became afraid and began to sink. He called out to the Lord in despair, "Lord, save me." Jesus extended his hand, took hold of Peter, and saved him.
The outcome of that car accident could have been much worse. As our car hit the tree, I believe the Lord heard my cry of desperation and shielded us from the full impact.
When we find ourselves in similar situations, where we feel as if we're sinking into utter despair and hopelessness, we should cry out to the Lord. He's waiting with an outstretched hand to save us.
Call on God when you need help.
(Photo courtesy of pixabay.)
(For more devotions, visit Christian Devotions.)
---
---