"For I know the plans I have for you," declares the Lord, "plans to prosper you and not to harm you, plans to give you hope and a future." Jeremiah 29:11 NIV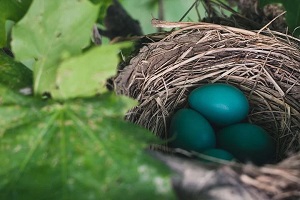 Her little nose crinkled as she peered over the counter—her big brown eyes giving her away before she could say, "Mama, I have a question."
Smiling at the resolve in her voice, I braced myself for what would come next. With my girl, it was never just one question.
"So, you know those robin eggs? The ones under our honeysuckle? And you know how we can't touch them because otherwise the mommy won't come back and take care of them? Welp, I just don't get that. How could a mommy ever leave her babies?"
I would like to say I responded with something profound, but what came forth from my sleep-deprived brain was more like a "Wah. Wah. Wah. Wah. Wah. Wah." By the time I ran out of words, my girl looked more confused than ever.
For a moment, we sat in awkward silence. Something gave way to her hands-on-her-hips answer, "Welp, I guess there are just some things I'm not gonna get. I guess God understands for all of us."
Then she hopped down from her counter perch and gave me a squish, her words reaching deeply into my grown-up heart. She had said it all. Sometimes this world doesn't make sense. In the middle of pandemics, riots, and division. In the middle of pain, loss, and broken relationships. In the middle of all life's chaos and confusion.
We are left searching, trying our best to reconcile the pain of this world with a loving and merciful God. Even in our aching and doubt, a greater story is being written for our good, for God's purpose, and for the sake of eternity. And in every page lies this promise: For I know the plans I have for you, declares the Lord, plans to prosper you and not to harm you, plans to give you hope and a future. This hope is not temporary or tenuous but endures through all of life's circumstances.
Even when it hurts. Even when it's hard. Even when it doesn't make sense. He purposefully understands for all of us.
We serve a God who is worthy of our trust in the most gutting circumstances. He longs to hold us, carry us, and cover us in the sufficiency of His love. But we must be willing to trust and fall into the strength of His arms.
What steps can you take to trust God in all circumstances?
(Photo courtesy of pixabay.)
(For more devotions, visit Christian Devotions.)
---
---