And she said, "As the LORD thy God liveth, I have not a cake, but an handful of meal in a barrel, and a little oil in a cruse: and, behold, I am gathering two sticks, that I may go in and dress it for me and my son, that we may eat it, and die." 1 Kings 17:12 KJV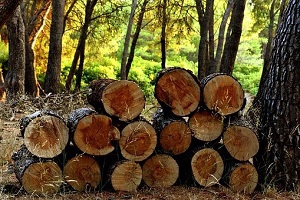 A woodpile starts with only one stick.
My parents' first house wasn't a house at all, but a converted garage. It was one room without plumbing. That's what you call "roughing it." They didn't have two nickels to rub together.
But something must've taken for them. When Dad passed away after he and Mom had been married for almost forty-five years, they had four grown kids and five grandkids. They owned their two-story home—a long way from the little place they started in. Dad had even owned his own business. Those things were worth more than money.
Often, we're prone to make the same mistakes as adults that we made in our early years. We think we must have everything at once. By doing so, we can put ourselves in dire financial straits, which can leave us bankrupt with worry.
Several people were "poor as dirt" until God blessed them with more than riches. A widow saw her meal and oil sustained because she obeyed and made Elijah a cake. Another widow—who was about to have her sons taken as bondservants to pay her debts—saw God let her little pot of oil flow abundantly so she could sell it, pay off her debts, and provide a living for them. Many were poor in health but were healed and became rich in Christ. It takes more than being penniless to be poor and more than wealth to be rich.
If it seems like we're gathering sticks and don't have two nickels to rub together, we can take heart rather than giving up. Those are the perfect times to watch God work. Today's sticks may become tomorrow's woodpile. God created this earth from nothing by just speaking a word. He can still make something from our nothing.
When you're gathering sticks, don't lose hope. Just wait for a word from the Lord.
(Photo courtesy of pixabay.)
(For more devotions, visit Christian Devotions.)
---
---