Then Jesus said to his disciples, "Whoever wants to be my disciple must deny themselves and take up their cross and follow me." Matthew 16:24 NIV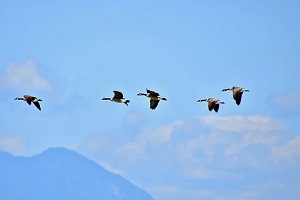 A stream of cars trailed behind us.
Where we turned, they turned. When we stopped, they stopped. Our car was the Pied Piper of the road of the charming South Carolina town we visited for my cousin's wedding.
After a lovely church ceremony, guests returned to their vehicles for a trek to an old Southern home for the reception. As out-of-state residents, my husband and I were unfamiliar with the venue. Relatives supplied us with brief verbal directions to the reception site.
Because we were the bride's family members, other guests assumed we knew where we were going. Apparently, all of them had the same idea: "Follow them!" Boy, were they in for a surprise.
Realizing we had missed a turn, my husband pulled into a funeral home parking lot to turn around. Like little ducklings following their mama, one by one, the cars trailing us also turned into the marked funeral home location. Why anyone would think this spot was the correct place for a wedding reception is anyone's guess, but every car behind us did as we had done.
While this memory provides a chuckle, the story also emphasizes the importance of following the correct leader. Failure to do so may land us in the wrong place.
Following Jesus is the only way to eternal life. Following another religion or a false teacher destines us to a worse place than a funeral home parking lot—spiritual death.
What leader are you following?
(Photo courtesy of pixabay.)
(For more devotions, visit Christian Devotions.)
---
---