"Courage, daughter. You took a risk of faith, and now you're well." The woman was well from then on. Matthew 9:22 MSG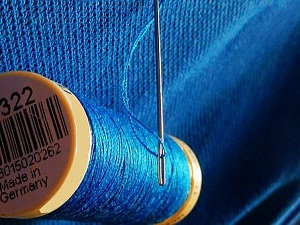 Overwhelmed. Alone. Hanging by a thread. We've all been there a time or two.
When I lost my younger sister last year—just as the world had shut down from Covid—I felt alone in my grief. Cut off from physical contact with friends and family, I dealt with emotions difficult to process on my own. There seemed nowhere to go, and no one to turn to for help. Until I realized there is one avenue always open to me. Jesus waited for me to turn to Him so he could heal my broken heart.
The young woman Jesus encountered found herself at that point. Desperately needing answers and out of options for where to turn. The condition with which she suffered separated her from loved ones for twelve long years.
But she heard Jesus was coming through town. Her faith told her if she could grab on to a tiny thread of His robe, she would be healed. She must have been frightened to make her way through the crowd, let alone touch Him. But she took a risk, mustered up her faith, and made her way to Him. She reached out and grabbed for the fringe on the hem of His garment.
Sensing her touch, Jesus stopped. He faced her and called her "Daughter." He acknowledged the courage it took to make her way through the crowd to Him, demonstrating her belief in His healing power.
Do you ever find yourself in this woman's shoes? Barely hanging on, feeling like there's no one to turn to for help? Follow her lead–dare to reach out and touch Jesus. Snag that thread on the hem of His garment.
The thin thread you're hanging on to will lead you to the Savior who longs to say to you, "Courage. You took a risk of faith, and now you're well."
(Photo courtesy of pixabay.)
(For more devotions, visit Christian Devotions.)
---
---