Return home and tell how much God has done for you. Luke 8:39a NIV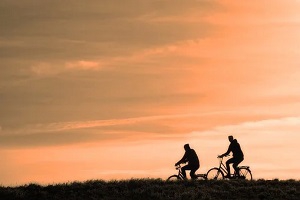 After squeezing my wife's calf, the doctor grimaced. "If you keep using the muscle, your condition will only worsen."
Six weeks and 2,300 miles from the Pacific Ocean, we were in Sioux City, Iowa—halfway through our bicycle tour.
"You can take anti-inflammatories and try riding in several weeks. But be cautious. Compartment syndrome rarely improves without months of rest."
My heart sank as Debbie's lips drooped. Stopping now would mean less money and awareness for our cause.
Beautiful summer days ticked by. We laid low and pitched our fundraiser with more vigor as local media covered our mission. Several people agreed to pray that we could continue our tour.
After two weeks, we reached a crossroads. We couldn't stay holed up indefinitely. Debbie's condition had improved, but the muscle remained tight and ached. Nevertheless, we decided to bicycle two days toward Omaha–and fly home if her leg was no better.
Just before we departed, Debbie's foot slipped into a crevice in the building's foundation. When she pulled it out, a bat stuck to the Velcro on her shoe and flopped around listlessly. She kicked it off. Was this an omen? Had a spiritual force let go of us as we rolled out on a gorgeous day to discover our touring destiny?
After fifteen miles, Debbie said, "It's fine. There's no pain at all. I can't believe it!"
In the following weeks, we cycled another 2,000 miles, ending the journey with over $22,000 raised for ministry. Debbie had no recurring symptoms. God performed a miracle.
An unexpected setback, a call to prayer, and a time of waiting had laid the groundwork for God to act. We had to step out in faith, despite our doubt. Once God did His thing, our part entailed proclaiming His work.
Sometimes we try to rationalize what only God can do. Without a logical explanation, people think we're crazy. Yet it's important to assign credit where it is due.
Reexamine the unexplainable in your life to see if God has overridden His laws of nature. If He has, it's time to let others know about it. Bringing God glory is what we were made to do.
(Photo courtesy of pixabay.)
(For more devotions, visit Christian Devotions.)
---
---