For it is by grace you have been saved, through faith--and this is not from yourselves, it is the gift of God. Ephesians 2:8 NIV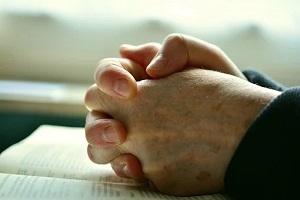 I knelt in a pew of our ornate sanctuary before the time of the high sacrament of communion.
An ancient icon of Jesus stared through me. This was a sacred time, where I felt guilt and trepidation. I knew I was unworthy of God's forgiveness. If I could see him with my eyes, surely His face would be stern as stone.
This was nothing new. I attended church most Sundays. I spent my life at school during the week and at parties on the weekends, where drinking to excess was the norm. I also had a strong desire for beautiful women. My shyness with them protected me from a great deal of harm. In many ways, I was a normal teenager, but before the Lord, I was a sinner and knew it.
My faith in God was not biblical, however. If you asked me if I were going to heaven, I would have said, "I hope so." Not until I attended a gospel concert by a former Santana singer, Leon Patillo, did my understanding of true Christianity take root.
Between his skillful keyboard playing and soulful songs, he spoke about his relationship with Jesus. He spoke as though he knew him as a friend, and I was intrigued. He explained that Jesus paid the price for our sins on the cross and now offers us a relationship with Him because of it. I learned that salvation is a gift from God that we receive by grace through faith.
That day, my life was transformed with a simple prayer, asking Jesus to forgive me and start my life anew. I made Him the Lord and Savior of my life.
If you haven't made Jesus your Savior, will you do the same?
(Photo courtesy of pixabay.)
(For more devotions, visit Christian Devotions.)
---
---