Joseph also went up from the town of Nazareth in Galilee to Judea…He went there to register with Mary, who was pledged to be married to him and was expecting a child. Luke 2: 4-5 NIV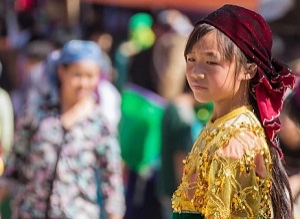 Cheddar or Italian?
I debated which to buy as my peripheral vision reported an approaching man. "You Chinese?" the thirtysomething inquired.
I nodded.
"People like us are rare around here," he claimed.
Maybe he meant in the Caucasian neighborhood where the grocery chain was located, I thought.
He then launched a monologue about the racism he's suffered since moving to America. His profanity-laced litany of complaints invited no response—until a pregnant pause ensued.
I sensed it was now my turn. I imagine he wanted me, another minority migrant, to join in and bash the country. I encountered an internal battle with polarized parts. One part encouraged me to voice my values—even though they ran counter to popular norms—while another part urged me to stay mum.
Jesus' step-father would've understood. I'm sure Joseph didn't plan to marry the one girl God destined as a surrogate mother for His Son, but this was what happened. Joseph must've heard Mary's account of how the angel Gabriel forewarned her about the miraculous pregnancy and chose to believe her—the way he did the angel who later appeared to him. Despite the steep societal cost, he obeyed the Lord and remained with Mary.
Believing privately is one thing; exposing our beliefs in public is another. Thanks to a mandated census, Joseph had to travel with a pregnant woman whose child he didn't help procreate. He must've exhibited outstanding courage.
As he readied their donkey, did he hear naysayers snicker? "There's the guy with the outlandish tale! We know how that baby got into Mary's belly. Angelic visitation my foot!" How many times did Joseph have to endure stares or answer fellow travelers, "No, she's not carrying my baby?"
Cancel culture notwithstanding, we should boldly exhibit biblical values whenever appropriate. Joseph survived his haters, and we will too.
Back at the cheese aisle, I pondered my minority status and its accompanying hardship. But even if it's fashionable to denounce the nation as racist, I refuse to do so. So, I told the man, "I love America."
In what areas do you need courage?
(Photo courtesy of pixabay.)
(For more devotions, visit Christian Devotions.)
---
---