We are like common clay jars that carry this glorious treasure within, so that this immeasurable power will be seen as God's, not ours. 2 Corinthians 4:7 TPT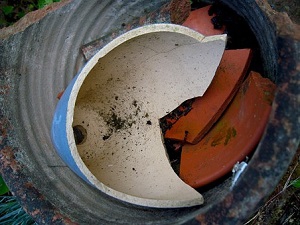 "I'm such a mess," the young woman said. "I have too many issues, and I can't ever do anything right."
Isn't it funny how our human nature dictates the need to be perfect, even though perfection is something we can never attain? It might be hard to admit, but we're all broken in one way or another. Some brokenness is more obvious than others, but the pain and the struggle remain. We all deal with fears, weaknesses, insecurities, and bad habits. Once we get a handle on one thing, another pops up to discourage us.
The truth is God created us that way. The Bible calls us earthen vessels. Simple clay pots that are cracked. Chipped. Imperfect. If we were perfect, we wouldn't need a Savior.
Brokenness comes in many forms—homes, hearts, dreams, bodies, relationships, marriages, and lives. The problem comes when we get so caught up in our issues that we are blinded to the plight of those around us. Those of us who claim to follow Christ should always be ready to offer help and hope to those who are hurting. Bob Gass writes, "God uses us to minister to one another, love one another, honor one another, and carry one another's burdens."
So, how do we deal with brokenness? We receive and walk in God's grace. Gass also says, "Grace restores the heart and resolves the troubles of a tormented spirit. It is lovingkindness and forgiveness. It is the favor of God."
As we grow in grace, we learn to see and accept ourselves for who we are. We embrace the good and surrender all those broken places to the Lord. Then we're able to reach out and extend that same grace to others.
Remember, we're all cracked pots, but that's only so God's light can shine through us.
(Photo courtesy of pixabay.)
(For more devotions, visit Christian Devotions.)
---
---