"For I know the plans I have for you," declares the Lord, "plans to prosper you and not to harm you, plans to give you hope and a future." Jeremiah 29:11 NIV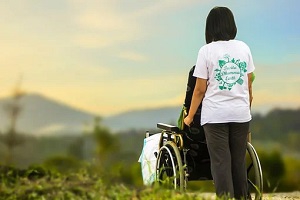 I once had an unlikely moment in the women's restroom in a nearby mall.
As I performed the usual activity in a stall, I heard a whooping sound coming from outside. I listened as an older female voice spoke with soft frustration. When I emerged, I saw a young man about ten or eleven years old who was very thin and tall. He stood drying his hands with his mom, who was shorter. The young man was disabled—perhaps autism or something more severe—and the mom's difficult position smote me.
I washed up and followed them into the hallway that led back to the mall. I approached the mom and prayed aloud: "God bless you. God give you every grace and the strength you need."
I can't remember what poured out of me. At first, the mom was shocked, but then she understood. She told me she had named him in the womb, not knowing he had a disability, and that his name means "God's Helper" in Hebrew.
I realized this woman suffers for and with her son every time she steps out of the house with him. He may or may not be aware of how people view him and say things about him at any given moment, but his mom is.
I could relate in some small way, having had similar challenges with two of our daughters. But more than that, I felt she needed encouragement—to know that she, too, is seen and that how she loves him is not in vain.
Enough of that kind of personal encouragement isn't present these days. Many struggle in one way or another like this mom. To love well and to believe in the beauty God created her son to reflect in the world.
We need to be the heart of God speaking to those who need encouragement—to build up and restore hope that God has beauty, purpose, and a plan for children like this woman's son, even if those around can't see it at that moment.
Think of someone you can encourage today.
(Photo courtesy of pixabay.)
(For more devotions, visit Christian Devotions.)
---
---