For we are the aroma of Christ to God among those who are being saved and among those who are perishing. 2 Corinthians 2:15 ESV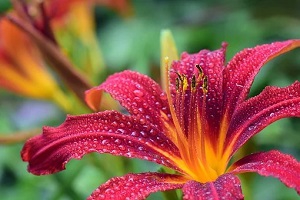 As I planted my freshly purchased annuals, I wondered which flower had such a sweet aroma.
I sniffed each one as I dropped them into their new mud homes, but I never found that lovely spring messenger. My work finally done—and my grass-stained knees creaking—I gathered my garden tools and wandered over to a bed I had not tended. I wanted to at least peek at my project for another day. The aroma greeted me again, growing stronger as I approached.
Tucked in among the Hosta, the plant that can overpower a garden, rested some tenacious Lilies of the Valley, barely peeking out from among the giant plants. They stood unassuming and small, but sent out a large and inviting fragrance as a message of their presence, even among the giants that squeezed them. I wanted to stand near the flowers, look closely at their blooms, and inhale their fragrance.
I want my fragrance to send out a message of the hope and peace I have in Christ, even if I am nestled among giants who don't know Him. Like the lilies, I want to be unassuming and make no excuse, except that my hope is not my doing and that anyone can have that same peace. I want my trust in Jesus' atoning sacrifice to be so fragrant that anyone without that hope wants to ask me how they can have it.
I pushed the Hosta leaves aside, cupped the little flowers in my hands, and breathed deeply, in no rush to leave them.
Yes. I want to be like the lilies and have a fragrance of hope that draws people closer and makes them want to tarry long enough to find out what gives me hope and peace. As they tarry, I pray they will embrace my hope and carry the fragrance of Christ with them to others.
What kind of fragrance are you emitting?
(Photo courtesy of pixabay.)
(For more devotions, visit Christian Devotions.)
---
---