Fear thou not; for I am with thee: be not dismayed; for I am thy God: I will strengthen thee; yea, I will help thee; yea, I will uphold thee with the right hand of my righteousness. Isaiah 41:10 KJV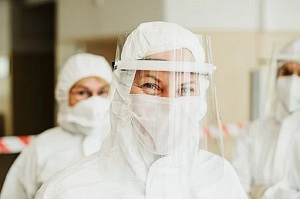 They lined up at the grocery store with face masks, standing six feet apart.
I felt awkward. I did not have a mask to wear and could not find one because stores were sold out. Even with a loved one at home recovering from a stroke, I could not stay home all the time. I had to buy food and keep doctor appointments.
My only choice was to make a mask. I tried my best. I sewed elastic to the ends of a sock—not professional looking, but breathable. I thought about the healthcare workers and store clerks who had to wear a hot face mask all day every day to care for and feed people like me. I could wrap a scarf around my face and take it off as soon as I left the store, but those on the frontline couldn't. They weathered the storm and went the extra mile.
For many, the Covid pandemic was the biggest threat in our lifetime. During uncertain times, when we don't have strength, we can look to God for His strength. He carries us through His Son Jesus. Unpredictable storms may come our way, and we will feel the effects of them, but our God is still at work behind the scenes and on our behalf.
We can trust the One who calms the storm. The shepherd boy David trusted in that Eternal Being when he faced his enemy, Goliath, the giant of the Philistines. He knew God would deliver the enemy into his hands, for his Sovereign Lord was with him.
Just as God was there for David, so He is here for us today. Riches, wealth, and disease will all pass away, but our God is here to stay.
Trust the Lord always. He is with you in the good and the bad times.
(Photo courtesy of pixabay.)
(For more devotions, visit Christian Devotions.)
---
---