Your eyes saw my unformed body; all the days ordained for me were written in your book before one of them came to be. Psalm 139:16 NIV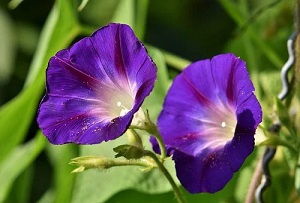 I once visited a historical farm and admired their vegetable garden.
Corn stalks, tomatoes, peppers, zucchini, cucumbers, and more filled every available space in neat rows throughout the garden. I turned a corner and noticed at my feet a morning glory plant, boasting its beautiful blue flowers.
Every spring, I attempt to grow these climbing vines. Some years, I even start early and plant them indoors. Other years, I put the seeds right in the ground. I painstakingly tie a cord around the fence for the vines to climb. But usually, my plants do not thrive.
But there at my feet, surrounded by vegetables and with nothing to climb, the little plant bloomed proudly. As I stood there in awe, a pioneer-clad docent informed me it was a weed.
"I'm sorry! What? How is that?" I exclaimed.
She calmly explained. "Anything that doesn't grow where you want it is a weed."
As I pondered her words, she dug it up, placed it in a pot, and sent it home with me. I planted it in front of our house under the mailbox so all who walked by could see.
I think about that comment often when I'm gardening. I wonder if there are NO weeds with God. He gave us life at exactly the moment He wanted and created us in His wonderful image. Psalm 139 talks about how God formed our inward parts and knitted us together in our mother's womb.
We are fearfully and wonderfully made. We were born into the family He chose long before we were a thought in our parents' minds. He guides us each day when we surrender to Him. I love to think that God has me right where He wants me. It inspires me to bloom and shine right where He plants me.
How about you? Do you know your worth in God's sight?
(Photo courtesy of pixabay.)
(For more devotions, visit Christian Devotions.)
---
---