And God is faithful. He will not allow the temptation to be more than you can stand. 1 Corinthians 10:13 NLT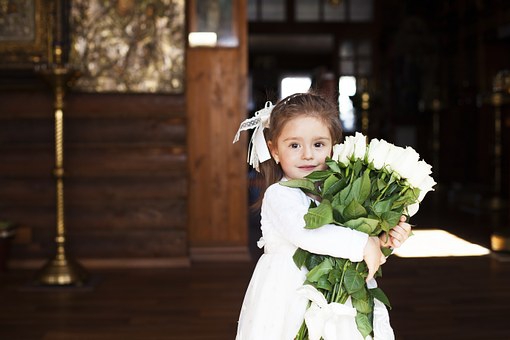 The wedding barn blazed with ribbons of twinkly white lights, giving no hint of the drama about to follow.
The tiny flower girl, only two years old, already had strong opinions on what she would and would not do. In spite of her adamant refusals, she had been dressed in a peach tutu which billowed around her little body. To others it looked beautiful. To her it felt scratchy and made her tender skin itch.
Holding her little tin bucket of peach rose petals, she faced the long aisle. She was absolutely sure she didn't want to walk down that aisle. She wanted to continue happily exploring her little tin bucket of sweet smelling petals.
A hand grasped hers and pulled her toward the aisle. Then the hand took some of her petals and scattered them on the floor. Her puzzled little face said, They've given me a present, and now I'm supposed to throw it on the floor? Mommy says that's a no, no!
Yet the hand tugged at hers, sporadically throwing petals on the floor. Midway down, she'd had enough. Yanking the bucket from the offending hand, she raised it as high as her tiny arm could reach and pounded the bucket on the floor with a rousing crash, peach petals flying wildly. Finally, she flopped on her belly in the middle of the aisle and screamed.
It's not just children who get pressured by expectations they cannot meet. Adults are not exempt. Expectations others put on us or those we impose on ourselves can result in total frustration. When expected to do something we don't know how to do and don't understand the reason for, we may be tempted to do a "flower girl belly flop." There are better ways to respond.
How we respond will determine whether we "bash our bucket" or benefit from the experience. We don't face life's challenges alone. God will never let us down. He'll never let us be pushed past our limit.
He promises He will not allow us to be tempted beyond what we can stand, but we must stand. When we do, He will make a way of escape. He always does.
Next time you feel pressured by the seemingly impossible, look to God for His abundant resources, and allow Him to show you how to respond positively rather than react negatively.
(Photo courtesy of pixabay.)
(For more devotions, visit Christian Devotions.)
---
---