For he will command his angels concerning you to guard you in all your ways; they will lift you up in their hands, so that you will not strike your foot against a stone. Psalm 91:11-12 NIV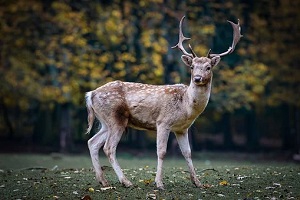 While driving home from choir practice one Wednesday night, I was startled.
A large doe stood still in the middle of the deserted two-lane highway. I tried to mentally shove her off the path of my car. Bang! Into the ditch, she landed. Thankfully, my car limped home and to the shop the next day to be repaired. I wish I could say the same for the poor deer.
Sometime later, I was again driving home from choir practice one evening—from the same church, on the same highway, but headed in the opposite direction toward my new house. After driving through the densely forested area where deer usually cross, I recalled that encounter years before. They don't come near open fields, I thought, so I brushed the silent "Deer!" alert aside.
Suddenly, I caught two eyes staring at me over my left shoulder, making a beeline for my car. I hit the brakes, hard enough to catapult my purse and all my music into the passenger-side floorboard. In what felt like slow motion, the determined deer kept coming, crossing inches from my bright headlights with a look that pleaded, "Please don't hit me." I thought, Keep on running and I'll try not to. Mission accomplished. The only consequences were a frightened deer and a relieved driver.
An angel accompanied me that night, whispering in my ear to watch out and pay attention. I also believe a special connection—fortunately not a physical one—was made between me and the deer.
Will you pay close attention to your alerts and connections today?
(Photo courtesy of pixabay.)
(For more devotions, visit Christian Devotions.)
---
---