And whatsoever ye do, do it heartily, as to the Lord, and not unto men. Colossians 3:23 KJV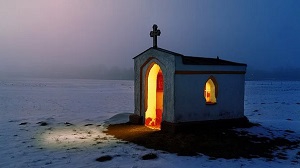 Nineteen sixty-eight was a cold winter in Eastern Kentucky.
The snow accumulated deeply on the ground. A fellow church member volunteered to come early and build a fire in the stove to let the church warm before the church members arrived.
But as he put wood in the stove and poked the fire, the stovepipe fell. Before he could get those pipes back together, the church filled with smoke. He opened the doors to let the smoke out.
When the members showed up, the smoke was gone, but the church was cold. Soon after the laughter subsided, the pastor's wife got up and testified: "I would like to stay home all curled up on the couch by the fire on a night like this." But on the coldest night of the year, the fiery flames of the Holy Spirit found her at this little church, telling the world about Jesus.
Come rain or shine, the early disciples spread the gospel of Jesus Christ. During the three years of Jesus' ministry, He worked relentlessly to bring us the good news of salvation. He told us just how He felt about the work of His Father when He said foxes had holes, and the birds had nests, but the Son of Man had no place to lay His head. In the cold and the rain, He had a job to do. He suffered as a man. He grew tired and hungry. But He only had one thing on His mind: reconciling the world to God. The whole reason He came to this earth.
Neither the fire builder nor the pastor's wife received a weekly paycheck for what they did. Their pay could not be added in dollars and cents. Christians are building the kingdom of God—one sinner at a time, one church service at a time. We don't fret over the paycheck. Our Lord is the keeper of the rewards, and He's keeping tally.
Thank God for the privilege of serving Him.
(Photo courtesy of pixabay.)
(For more devotions, visit Christian Devotions.)
---
---