After the earthquake came a fire, but the Lord was not in the fire. And after the fire came a gentle whisper. 1 Kings 19:12 NIV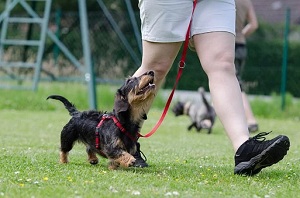 Listen became my go-to word as I sought to instill discipline and training in Charlie's little rambunctious puppy brain.
When Charlie began misbehaving, whether barking incessantly at a neighbor, chasing after a bunny who dared enter her backyard, or getting too close to my dinner plate, I'd say "Charlie, liiiiiissstttttennnn" with the hopes it would immediately garner her attention. At two years old, anytime I utter that word, she stops in her tracks and looks at me, waiting for further direction from her master.
I've often felt God utter the same six-letter word to me. When the Lord instructed the prophet Elijah to stand on the mountain and wait for Him to pass by, Elijah probably expected a dramatic entrance. When a powerful wind tore the mountains apart, Elijah was likely surprised that the Lord was not in the earth-shattering wind. Nor was He in the earthquake that followed. Or the fire that proceeded the earthquake. Instead, the Lord revealed Himself to Elijah in a gentle whisper.
In our busy world filled with buzzing phones, social media, news notifications, and ever-growing to-do lists that vie for our attention, I find it difficult to silence my heart and mind and listen to God. I frequently neglect to hear Him speak to my heart because I don't silence myself and listen to His voice.
Just as I tell Charlie to listen when I need to regain her attention, I can almost hear God saying, "Emily, liiiiisssstteeeeeen." I have chosen to deliberately quiet myself, open my heart, and listen each day, allowing God to speak.
Take time today to quiet your heart and mind and invite God to speak to your heart. Then listen. He has so much He desires to share with you.
(Photo courtesy of pixabay.)
(For more devotions, visit Christian Devotions.)
---
---