And walk in the way of love, just as Christ loved us and gave himself up for us as a fragrant offering and sacrifice to God. Ephesians 5:2 NIV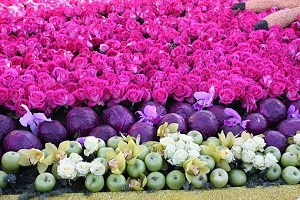 Thousands of blooms combined to deliver the sweetest fragrance my nose had ever encountered. I repeatedly inhaled. Ahhh!
I identified various scents as I progressed on my tour of the huge Tournament of Roses Parade float barn in Pasadena, California. Roses, orchids, chrysanthemums, and various other blooms each emitted their special smell. The flowers' vivid colors provided no competition for the pleasing aroma wafting from the eighteen million blossoms covering the numerous floats that occupied the venue.
The delight evoked by this once-in-a-lifetime olfactory experience caused me to struggle with the characterization of Jesus as a fragrant offering to God. His life was sacrificed in a hideous death on a wooden cross to which His hands and feet were nailed. How could the smell of His blood and the stench of death be fragrant? Flowers smell sweet, but the mere thought of the odors associated with crucifixion turns my stomach.
The key is understanding that the offering God desires is obedience. At His direction, Jesus voluntarily acted to make Himself a pleasing, fragrant offering. The Son's complete obedience to His Father's will allowed a path to open for our reconciliation to God. What could be sweeter?
While the flowers God created are fragrant, the best fragrance to Him is our obedience. Let's follow Jesus' example and show our love for our heavenly Father by obeying Him. Our obedience will be a sweet smell.
(Photo courtesy of pixabay.)
(For more devotions, visit Christian Devotions.)
---
---