Are not five sparrows sold for two pennies? And not one of them is forgotten before God. Why, even the hairs of your head are all numbered. Fear not; you are of more value than many sparrows. Luke 12:6-7 NIV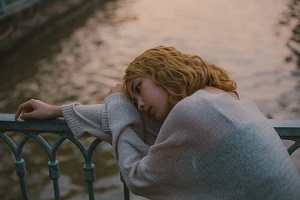 The young woman swiped her eyes, smearing mascara across her cheeks.
"You have worth. Your life is valuable." A kind man stretched out his hand to help her stand. He pulled a handkerchief from his pocket and gently placed it in her hand. "Things seem hard, but the Father knows your needs. Let me help you inside the shelter."
With that, he guided the woman into the shelter and the presence of a minister. Two women joined the pastor and welcomed the young girl.
"Let's get you cleaned up and get some food in you. Then we can figure out how best to help you."
The young girl smiled as the man who'd freely helped her waved goodbye. "Remember, you are valuable in God's eyes."
The evil one seeks to tear us down mentally. We look for the physical attacks, almost expect them, but for one reason or another, our eyes are blinded to the mental attacks that rain down on us. Satan works, not from a standpoint of our strengths, for he cannot compare to them, but from our weaknesses where he needles his way into our minds. Attacking our self-confidence is easy because as humans, our mental well-being is vulnerable. We become easy targets when we question our self-worth to our Father and our friends.
Jesus seemed burdened by the worry of those He preached to in this passage. He recognized their fear. It was a tumultuous time for believers. His reassurance to the people was not a promise that things would be easy but rather a reminder of whom the people should fear, and whom they should depend upon.
Picture the gentleness of the Savior as He walked among the people. Take in His desire to calm the fear, and grasp hold of the reassurance He gave that day. What good is it to fear one who can simply take our life but do nothing else? Fear the one who can cast us into hell. Don't worry. God knows every part of us. If He finds value in the sparrows, imagine how much more value He finds in us.
The Father loves His children, and, although we know this as believers, we tend to lose sight of how He cares for us. He doesn't want to lose one soul. God allows us the freedom to choose to love Him. His love for us is strong and our value in His eyes is beyond our understanding.
Never question your value in God's eyes.
(Photo courtesy of pixabay.)
(For more devotions, visit Christian Devotions.)
---
---