Trust in the Lord with all your heart and lean not on your own understanding. Proverbs 3:5 NIV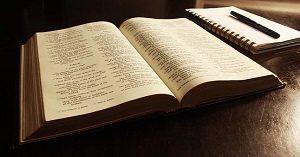 I love how God speaks to me.
One night I left my office window open, and the wind ruffled the pages of my Bible, which I'd left open after my morning devotion the previous day. A couple of pages folded in on themselves, leading me to look at the right column of the right page where I had highlighted Proverbs 3:5.
As I read a devotion on another morning, I thought about the writing style of the author of Proverbs. No fluff. No pretty words. He directs us to read a specific passage in the Bible, then proceeds to paraphrase, sometimes with a short anecdote, to clarify or magnify the meaning. He ends with a question to ponder in prayer.
It struck me that God's Word is all we need. When I write devotions, I generally base them on my life experiences, focusing on a current event or mental attitude that has turned me to God for answers. Often, those experiences are hurtful or have colored my view of human life. Writing devotions provides a type of journaling for me.
God's Word is so simple, honest, and beautiful. Even in the darkest times, the characters God chose to highlight show us that no matter what we go through, or no matter how far we have fallen, His love never fails.
When doubts plague me, when hope is lost, or when I feel like broken people are a hopeless cause, I realize all God has done for me, and I catch a glimpse of His deep love. It's enough.
That deep love is yours too. Relish it. Bask in it. Find renewed hope in God's Word. We don't have to understand everything because God does, and that's all that matters.
Trust God at His Word. His love is all over it.
(Photo courtesy of pixabay.)
(For more devotions, visit Christian Devotions.)
---
---