Rejoice always, pray continually, give thanks in all circumstances; for this is God's will for you in Christ Jesus. 1 Thessalonians 5:16-18 NIV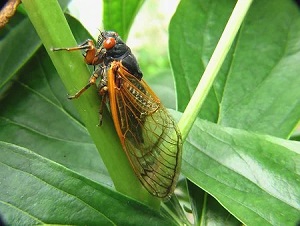 Around late July or early August, the temperatures feel as if they approach nuclear level in the South (USA), and humidity thickens the air. This is the time when cicadas emerge.
My evening walks are my time to unwind and talk over the day with Jesus. One week, when it had cooled down to a balmy 93 degrees after a heat index of 112, I ventured out for a walk.

I tried not to grumble about the temperature or how quiet the evening was—even the songbirds had gone to bed early to escape the heat. Rather than let complaining thoughts take over and sour my time with the Lord, I thought of things for which to thank God: freedom, health to walk, the beautiful sunset He had painted, and…
Then I heard it. A low, bagpipe droning sound. The cicadas were singing. It was too hot for the songbirds but just right for the cicadas to take up the praise.

Cicadas need heat to become active and start singing. Their muscles contract to make a special organ called a tymbal which vibrates. Their wings click and flick. A symphony of rhythm and percussion fills the air.

Perhaps the same is true of us. Depending on the season we are in, we each have a different song with which to praise the Lord. We have praise, lament, day, and night songs. And some of our songs can only be produced by heat.

When you find yourself in a fiery trial (or out for a walk on a sweltering summer evening), find a few things you can thank God for. Ask Him to teach you a new song. Remember the cicadas and the heat, then sing.
(Photo courtesy of pixabay.)
(For more devotions, visit Christian Devotions.)
---
---