I have no greater joy than to hear that my children are walking in the truth. 3 John 1:4 NIV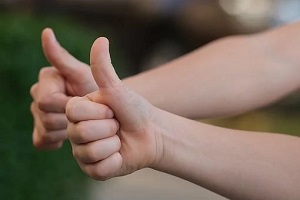 Our phone rang not thirty minutes after two of our teenage sons loaded into the truck to run a few errands.
"I was following the boys across the river bridge, and a cigarette flew out the window and landed on my car. I thought you'd like to know."
Very few rush to tell us good things about our children, rather it's the opposite. If there is an issue, folks race to inform us of their misgivings forcing us to wonder if our children do anything other than rabble-rousing. Was our parenting labor in vain? A worthless effort that has only managed to produce unruly children? Of course not, but the negativity of man leans first to what is wrong rather than what is right. Perhaps this is a foothold of the evil one—a way he can instill chaos and frustration into our hearts.
John, in this letter to Gaius—a traveling companion, a fellow believer, and a respected teacher—immediately offered a compliment. He shared that he had no greater joy than to hear his children were walking in the truth. What a compliment, both for John and Gaius, to know that those they labored and invested their time into remained staunch in their beliefs in Christ.
When we labor hard on a project or even in our families, it's nice to know others see the good. Especially when it comes to our children. The time we invest in them is valuable. The validation from others brings us joy. God is equally pleased when His children remain strong in their relationships with Him. He delights in our efforts to be the children He longs for us to be.
We knew and still know, our children are far from perfect, but it doesn't mean they are bad men. Still, it would have been nice to have heard our friend say, "Your son is a good driver" instead. We addressed the issue, but praising them would have been so much sweeter.
When others try to stifle the joy we have in Christ by pointing out those minute failures, do not dismay. Hold strong to the purity of Christ. Remain in His Word and pray for His guidance in your understanding.
The Father is joyful at your faithful labor.
(Photo courtesy of pixabay.)
(For more devotions, visit Christian Devotions.)
---
---