See! The winter is past; the rains are over and gone. Flowers appear on the earth; the season of singing has come, the cooing of doves is heard in our land. Song of Solomon 2:11-12 NIV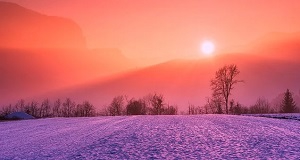 Gladys, my ninety-year-old neighbor, was concerned about the approaching winter.
She was afraid she would need help and not be able to receive it because of the wintry weather. I assured her, "No matter how severe the weather or how deep the snow, someone will get to you."
When winter came, it brought a thick sheet of ice and an abundance of snow. Although it was sometimes hard getting through the deep snow and hardened ice, help always reached Gladys.
Then spring came, trees bloomed, and bright colorful flowers emerged. When I took Gladys her mail, I reminded her, "The winter you dreaded has passed."
Many of us have had hard winters, times when problems and heartaches weighed our spirits down with icy despair. Just about the time we managed to chip away the hardened ice, another storm swept in.
Some of the winters in my life have included my husband leaving me for another woman, being hired for my first job and struggling to learn the many aspects of it, being fired by a new supervisor who wanted a friend to have my position, and becoming a caregiver to my second husband when he developed Alzheimer's Disease and several other health problems.
Your list of winters will vary from mine, but we have all faced those times in life when icicles clung to our hearts and we trodded on slippery ground. It seemed winter would never go away.
The winter Gladys feared eventually disappeared into the past. Spring came once again. God fulfilled His promise: "I will be with you through all the seasons of your life."
Allow God to bring you through your life's storms and winters.
(Photo courtesy of pixabay.)
(For more devotions, visit Christian Devotions.)
---
---