In the night, Lord, I remember your name, that I may keep your law. This has been my practice: I obey your precepts. Psalm 119:55-56 NIV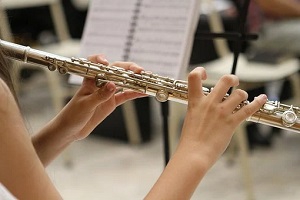 When cleaning out my attic, I found my flute.
My flute is a Gemeinhardt, open-holed, silver-plated with a solid silver head and B foot. I had played from elementary school to early adulthood and had memorized and performed cantatas. I practiced daily and became a fairly accomplished flutist. But after my third child, I stopped playing. I always expected to resume, so I kept the flute and all my music.
When I took out my flute again, it had tarnished some, despite the case. I wiped it down carefully, assembled the three pieces, and straightened the sections. I put my fingers over the holes and blew a steady stream across the mouthpiece, rolling it back and forth under my lip to find the sweet spot. Instead of hearing a clear, deep note, fuzzy static tripped out.
I leafed through the music—stacks of Vivaldi, Chopin, Debussy, and Bach. I realized I couldn't read or count many of the notes, and I couldn't remember the fingerings. I had forgotten how to play.
Whenever I'm resting or awake, my mind focuses on what it wants to remember. Whatever it values, it will rehearse, repeat, and practice.
Following Jesus, like playing an instrument, requires intentionality and repetition. I can never stop being God's child any more than I can stop being a flutist, but I can certainly fail to perform like one. I can forget how to practice my faith and why practicing matters. I can easily assume that because I believe, I must be a good Christian.
For twenty years, I never unclasped the case that held a beautiful and valuable instrument, once so familiar to me. I always intended to perform again, but now when I have an inkling to play a simple melody, I can't remember how.
My faith is like my flute. The melody of our faith is practice. To remain effective and influential followers of Jesus, we must all rehearse our faith consistently. We must read God's Word, pray continually, and share His gospel. If we don't, we will forget how to do it.
What is the melody of your faith practice?
(Photo courtesy of pixabay.)
(For more devotions, visit Christian Devotions.)
---
---