Jesus said to her, "Everyone who drinks of this water will be thirsty again, but whoever drinks of the water that I will give him will never be thirsty again. The water that I will give him will become in him a spring of water welling up to eternal life." John 4:13-14 ESV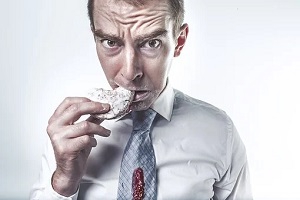 All my life, I have struggled with my weight.
I do well for a few months, but then I always get off track. I get bored with diet restrictions or the special foods, or sometimes the stress of life causes my diet to derail. I tend to listen to my head saying, "Feed me," rather than listening to my stomach. I find myself snacking just because, not out of hunger—feeding a need.
They call my dilemma "head hunger." Give me a salty snack or some cookies, and I am a happy girl—at least for a little while. Shopping sometimes gives me a little mood boost as well. Retail therapy is definitely a thing. Perhaps the need is deeper than just a simple desire for a snack or a desire for some new shoes.
Just like the woman at the well tried to find satisfaction in relationships, we, too, often try to satisfy ourselves with substitutes. We try to fill our emptiness with food, shopping, relationships, alcohol, or drugs. Jesus told the woman at the well that "whoever drinks of the water that I will give him will never be thirsty again."
Jesus is the only One who can fill the empty places, so we don't feel the emptiness of hunger. Only Jesus can truly satisfy a hungry soul. Jesus longs to fill us, so we no longer hunger and thirst for things of this world.
Are you hungry and thirsty for more than the temporary things? Let Jesus fill you with Himself, so you don't ever need to feel empty again.
(Photo courtesy of pixabay.)
(For more devotions, visit Christian Devotions.)
---
---