Command them to do good, to be rich in good deeds, and to be generous and willing to share. 1Timothy 6:18 NIV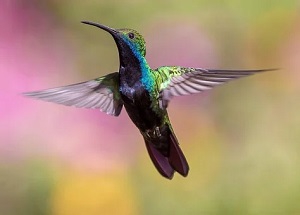 Were they hummingbirds or fighter jets?
Watching the minute birds zip around my deck, I thought I was watching military aerial strikes. One bully bird used aggressive maneuvers on any bird approaching the feeder.
I was fascinated by the activity until I realized one bird greedily guarded the food I supplied. That little hummingbird brought nothing when he took up residence in my yard. His food came from my bountiful supply of sugar and water. As often as the feeder emptied, I refilled it. All that I had was available to him in abundance, yet he refused to share the sweet nectar I provided.
As I stood in my doorway watching the action, my fascination turned to sadness over one selfish bird. Then I pictured God watching each of us from heaven's doorway. Does He observe us freely sharing our possessions and talents? We brought nothing into the world. All that we have comes from the Lord. He only asks us to use our blessings to do good deeds, to be generous, and to share with others.
In his book, God's Smuggler, missionary Brother Andrew recalls how God never failed to provide. Whenever a need arose, Brother Andrew prayed and asked the Lord to meet that particular need. So many times, he moved forward, not knowing how his next step would be possible, but God provided a sweet nectar blessing at the exact time it was needed. Through God's provision, Brother Andrew never lacked anything. The Lord enabled him to supply thousands of Bibles to Christians in Communist countries. The Lord supplied the Bibles, transportation, protection to carry Bibles through checkpoints, and safe delivery of them to underground believers.
Whenever I read this true story, I'm inspired by Brother Andrew's unwavering trust in God's ability to provide, and I'm in awe of God's faithful provision.
The greedy hummingbird didn't trust me to provide him with food, so he refused to share. Brother Andrew, on the other hand, knew God would provide abundantly, enabling him to share with those in need. Imagine the smile we bring to God's face when our trust in His provision is so certain that we generously and joyfully share our sweet nectar blessings.
Ask God for opportunities to share His blessings.
(Photo courtesy of pixabay.)
(For more devotions, visit Christian Devotions.)
---
---