Now unto him that is able to do exceeding abundantly above all that we ask or think, according to the power that worketh in us. Ephesians 3:20 KJV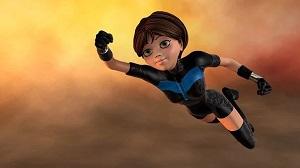 "Ella, God made the stars and put them in the sky," Mamaw said.
Three-year-old Ella's eyes widened as she listened and peeked out the window at the twinkling stars.
Mamaw Karen Parker continued reading from the children's book, "He made the sun to shine so brightly and the stars for the night." Ella's excitement grew.
Before they could finish the book, Ella blurted, "Mamaw, does God have super powers?"
We live in an age when our children have varied superheroes. Some represent the best attributes of humanity and the ultimate force for good, living by a high moral code. Children want to be like their heroes, even if that is only to don a cape and try to fly.
But how do our children and grandchildren learn the concept that God is mighty? With our actions and words, we can show them who God is and help them form their view of the heavenly Father. If we believe He desires us to live by a high moral code, we model that before them.
When we tell them about God, our attitude about Him comes through to the little ones. They sense our faith. God joins with us at the point of faith to accomplish great things in us, around us, and through us. He values each one and desires to see us achieve greatness according to His power working in and through our weak, human selves.
God continues to perform the miracle of creation every time a baby is born. Each child who enters the world has purpose and is included in God's universe for a reason.
God gives us unique flowers, trees, and animals for our pleasure. We see the wonder of His creation through natural beauty. The Grand Canyon and Niagara Falls reveal His splendor. Scientists continually discover heavenly bodies we never knew existed.
"So yes, Ellla, God is a superhero, and He has super powers."
Let your children know you believe that God is the greatest superhero of all.
(Photo courtesy of pixabay.)
(For more devotions, visit Christian Devotions.)
---
---