The man took Jesus at his word and departed. John 4:50 NIV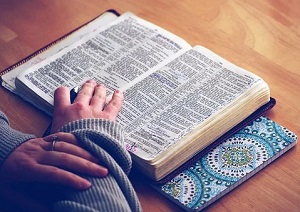 John D. Rockefeller, Jr. said, "I believe in the sacredness of a promise, that a man's word should be as good as his bond; that character—not wealth or power or position—is of supreme worth."
I remember my dad referring to this saying too. We should be able to count on what a person says to be trustworthy. That was in my dad's day. They made a bargain with a handshake and their word. They didn't sign a contract with all the legalese to ensure it would be carried out. The person's character was proof that he would do what he said.
A royal official's son lay sick and near death. Perhaps this man heard about Jesus' miracle of turning the water into wine or another of His miracles. When he realized Jesus was again in Cana of Galilee. he came to Jesus and begged Him to come and heal his son. Jesus told the man, "Go, your son will live."
The man took Jesus at His word and went home to find his son had recovered at the exact time Jesus spoke to him. After that, the man and his whole household believed in Jesus.
Jesus speaks to us through His Word. He tells us how to live and gives us commands and promises. How can we know these words are true and that we can count on them? When we look at Jesus' character, His love, and His wisdom, we recognize His word as dependable. We can count on His guidance through His words because of who He is.
God's written Word is powerful, not just black words on white paper. Instead, "All scripture is given by inspiration of God and is profitable" (2 Timothy 3:16). It is a God-breathed word.
We could choose to argue with God that our circumstance is unique or bargain with Him to answer our prayer according to our wishes. But when God speaks, we can believe what He says. His character is trustworthy.
Begin today to take Jesus at His word.
(Photo courtesy of pixabay.)
(For more devotions, visit Christian Devotions.)
---
---