For we do not have a high priest who is unable to empathize with our weaknesses, but we have one who has been tempted in every way, just as we are - yet he did not sin. Hebrews 4:15 NIV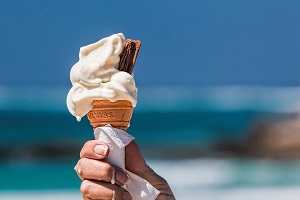 I didn't realize how difficult a three-week sugar fast would be.
It's only three weeks, I thought. Purposely finishing off the leftover birthday cake sitting on the counter the night before my fast started so there were no delectable goodies to tempt me, I discovered that the first couple of days were easy.
A few days later, however, my fiancé Nick brought home a box of dulce de leche drumstick ice cream cones as a special treat. He forgot about my fast. As I sat night after night watching Nick devour the savory frozen desserts while my mouth watered, temptation kicked in.
Expressing to God how much I was struggling to resist such a silly temptation, God reminded me He understood because He, too, had faced temptation.
After fasting for forty days and forty nights in the wilderness, Jesus was tested by the tempter. "Tell these stones to become bread," the Devil said. "Throw yourself off the temple, for He will command his angels to protect you. If you bow down and worship me, I'll give all the kingdoms of the world to you." To each temptation, Jesus responded by quoting Scripture.
As I fought temptation during my fast, I was comforted by reading about Jesus' experience. Following His example, I spoke the truth displayed in Scripture. God has given me a spirit of power, love, and self-discipline. I am disciplining myself for godliness. I can do all things through Christ who gives me strength.
Although the temptation to indulge in the sweet treats surrounding me didn't magically disappear, I was strengthened and empowered through the Word. With God's help, I completed my fast.
When we face temptation big or small, we can cry out to Jesus because He understands. He endured the same. And like Jesus, our first instinct, when faced with temptation, should be to cling to the Word for strength.
Are you struggling with temptation? Cry out to Jesus. God understands, empathizes, and will empower you to say no to the flesh.
(Photo courtesy of pixabay.)
(For more devotions, visit Christian Devotions.)
---
---